BriskBard 2.5 Released !
Submitted by

salvadordf

on Sun, 05/09/2021 - 17:22
Choose one of the new visual styles and navigate the Internet the way you want! Discover the new customization and privacy features in BriskBard.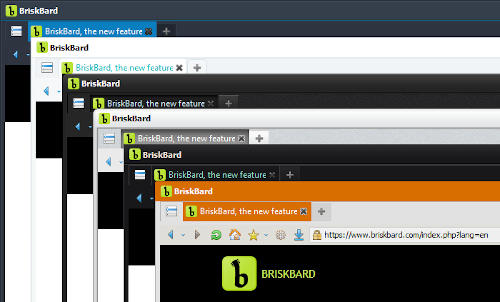 BriskBard 2.5 includes many more visual styles to choose from and new keyboard shortcuts that make it even easier to select any tab.

The multimedia player now includes a link to the LAVFilter nightly builds which have the best codec compatibility with your media files.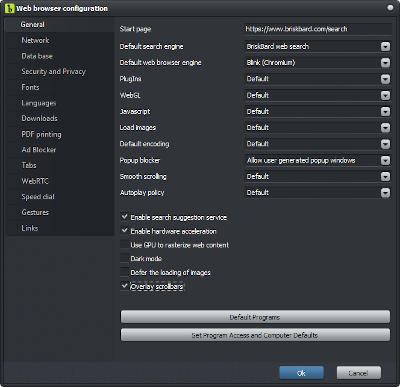 If you prefer to use all the screen area to navigate the Internet and you think the scroll bars take too much space then you'll be happy to know that you can enable the new overlay scroll bars in the web browser configuration.
In addition to many other privacy features already implemented in BriskBard, the new tracking method introduced by Google called Federated Learning of Cohorts (FloC) has been disabled in BriskBard 2.5.
This is the complete list of changes in BriskBard 2.5 :
The Blink rendering engine has been upgraded to 90.0.4430.93.
Added many more visual styles.
Added a option in the web browser configuration to use overlay scrollbars.
Added a keyboard shortcut to select the next tab and the previous tab : control+tab and control+shift+tab.
Added a keyboard shortcut to select a tab in certain position : control+number (1-8).
Added a keyboard shortcut to select the last tab : control+9.
Added a configuration menu option in the media player to download the LAVFilter nightly builds.
FLoC has been disabled.
The FTP client in BriskBard is now used to open FTP links on a web page.
Added two new options to save a web page in MHTML and text format.
The Indy and Tor components have been updated to the latest version.
Updated to Delphi 10.4.2
Bug fixes :

Fixed an issue that allowed to always open the last tab.
Fixed an issue that close web browser tabs automatically when you download files from an FTP server.
Fixed all windows that were created behind the main window in Windows 7.
The scroll bar below the tabs is updated correctly now.
For more information go to https://www.briskbard.com
English