The new version 1.4.0 of BriskBard has been released !
Submitted by

salvadordf

on Sun, 04/02/2017 - 22:00
The new version of BriskBard is even safer against phishing threats and it also brings many improvements and optimizations in the web browser, the email client and the newsgroup reader.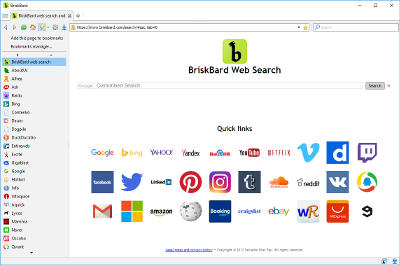 These are the new features in the 1.4.0 version :
The Blink rendering engine is now updated to 57.0.2987.110.
Added a new manual option to check for phishing threats using Yandex Safe Browsing.
Improved text search in web browser tabs that use the Blink rendering engine.
New option to connect to private newsgroups servers that require a username and a password.
New status bar icon in the web browser to quickly select if popup windows are open or blocked automatically.
Added a keyboard shortcut to refresh a web page ignoring the cache data : control + F5.
Now you can select if the spelling service is active in web browser tabs that use the Blink rendering engine.
SQLite, OpenSSL and Indy have been updated to the latest version.
Added the total media length in the media player.
Updated list of public newsgroups servers.
Bug fixes :

Now it's possible to skip to any position in the MKV videos by clicking in the progress bar.
The media player goes back to windowed mode when a video ends.
Speed optimization in Google Safe Browsing updates.
Speed optimization storing newsgroups headers.
Now the email message viewer is not resetted while receiving more messages in that account.
More meaningful error messages in the newsgroups reader.
Debug CMD windows are now disabled.
For more information got to https://www.briskbard.com
English