BriskBard New Update 1.4.2 Released!
Submitted by

salvadordf

on Wed, 06/14/2017 - 09:00
Enjoy an even faster BriskBard browser thanks to many improvements in tab handling and the numerous updates in many of its components.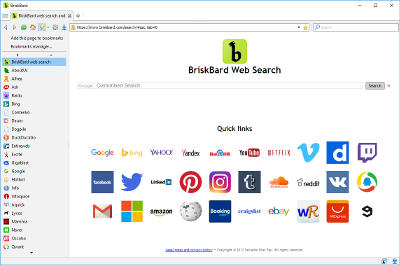 These is what's new in this version :
The web browser core has been updated to the latest version of Blink 59.0.3071.82.
The database component (SQLite) has been updated to the 3.19.3 version.
The component to establish secure Internet connections (OpenSSL) has been updated to the 1.0.2l version.
The Delphi component used in many Internet clients (Indy) is now updated to the latest version.
Bug fixes :

Now you'll see an error If you try to download a file that it's not available in the server.
The address box inside a web browser tab will not make a sound if you press enter.
The web browser tab destruction has been improved and greatly accelerated.
The popup window handling in web browser tabs is now more reliable.
Now you'll see an error message in case you find a website with an incorrect certificate. You'll have an option to ignore the error or block that website.
The full screen mode in YouTube videos now works correctly.
BriskBard is the most comprehensive web browser for Windows that includes all the features most of the people use in Internet and some advanced features for web developers.
Among the most important features you'll find an email client capable of handling unlimited accounts, a rich media player to watch your favorite videos and listen to your music, a news aggregator to stay informed, a contact manager, an FTP client to send and receive your files, a usenet newsreader, an IRC client to chat with your friends and many advanced developer tools.
For more information go to https://www.briskbard.com
English