BriskBard 1.5.0 Released!
Submitted by

salvadordf

on Mon, 08/28/2017 - 20:10
Download the latest version of BriskBard and enjoy a lightning fast web browser that brings many of the features requested by the users.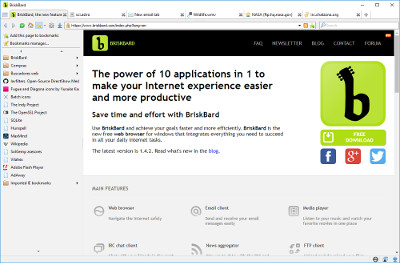 Many will be happy to hear that BriskBard now has an integrated ad blocker. You can enable or disable it easily by clicking in the traffic signal icon in the lower right corner of BriskBard.
Personally, I would only use it on abusive web pages with very little content and many distracting ads. Remember that many legitimate free services in Internet finance themselves showing ads.
Another recurring petition that is finally implemented is the support of high DPI monitors. Now BriskBard scales all its user interface properly in every monitor resolution.
As always, this version includes user interface improvements and some bug fixes.
Here's the complete list of new features :
The web browser now uses the latest Blink rendering engine 60.0.3112.113
SQLite and Indy have been updated to the latest version.
BriskBard is now built with Delphi 10.2 Tokyo.
Added an ad blocker thanks to the data from the AdAway project.
The user interface has been modified and now it works correctly in high resolution monitors with high dot density.
A new web browser bookmark import wizard is shown the first time BriskBard runs.
The media player allows to drag and drop media files over BriskBard to play them.
New configuration option in the email messages viewer and newsgroups article viewer to show attached images with higher quality.
Added a forum link in the main menu.
Now BriskBard shows a translucent tab image when you move tabs.
The web browser pop-up windows using the Blink engine can now drag and drop elements.
New configuration option to disable the microphone and camera in the web browser using the Blink engine.
New configuration option to disable hardware acceleration in the web browser using the Blink engine.
Now you can restore BriskBard by clicking in the system tray icon.
BriskBard task bar icon flashes when there's a new notification.
Now notifications also show communication errors.
The bookmark icon has been changed by a star.
Bug fixes :

The Internet connection window with the external IP now shows all the information.
The whole certificate chain is now shown when a website uses a bad certificate.
Fixed an app freeze when a web page has several redirections.
The mouse wheel scroll in the bookmarks now work correctly.
For more information go to https://www.briskbard.com
English