The New BriskBard 1.5.1 Is Available!
Submitted by

salvadordf

on Thu, 09/21/2017 - 08:20
Download the latest version of BriskBard web browser with the newest version of the Blink rendering engine, PDF reader integration and more user suggested features.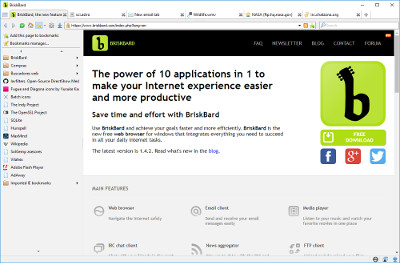 BriskBard can now be used to read PDF files and you can select it as the default PDF reader application in Windows.
If you like to have Internet shortcuts to your favorite websites in your desktop now you can use BriskBard to create them anywhere you want. Later, you'll only have to double-click the Internet shortcut to open the website in BriskBard.
These are the new features in this version :
The Blink rendering engine is now upgraded to 61.0.3163.91
Added a menu option to open PDF files, images, etc from the web browser tabs that use the Blink rendering engine.
Added a menu option to save the current URL as an Internet shortcut from the web browser tabs.
Now BriskBard can be set as the default application to open PDF files and Internet shortcuts.
There's a new option in web browser tabs using the Blink rendering engine to open all links in new tabs.
Bug fixes :
Now the full screen image viewer works correctly and can be closed pressing any key.
The PDF files generated in the "Print as PDF" option have a valid name.
The option to add new bookmarks is now enabled correctly.
Improved scroll using the mouse wheel in the browsing history, search suggestions, etc in Windows 7.
Automatic tab scroll when you close or open new tabs.
For more information go to https://www.briskbard.com
English