7 Best Free Online Photo Editors
Submitted by

salvadordf

on Thu, 09/28/2017 - 09:22
Learn what are the most advanced Photoshop alternatives to edit your pictures for free using a web browser. Enhance your images using these web apps.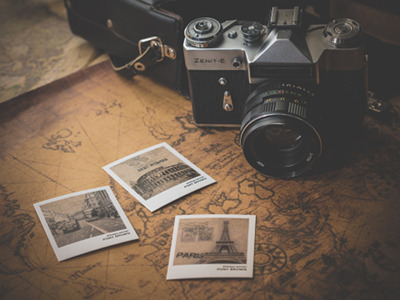 With other web applications you can create exhaustive lists of all the websites but in this case there are tens (hundreds?) of online image editors available.
For this article it was necessary to make a selection with the most advanced editors that resemble desktop applications like Photoshop or Gimp.
There are many more websites with some photo editing capabilities but all of them lack layer management, a desktop-like user interface and other features.
All these editors work in web browsers like BriskBard and in some cases you may need to install the Adobe Flash Player as described here.
This is the list of online photo editors, in alphabetical order :

PhotoPea can be used to edit raster and vector images. It's based in HTML5 and it supports the PSD, XCF, Sketch, PNG, JPG, GIF, WebP, ICO, BMP, PPM/PGM/PBM and TIFF image formats.
PhotoPea has a user interface very similar to other desktop applications like Photoshop or Gimp. It's translated to 13 languages and it allows you to add more languages or complete the existing translations.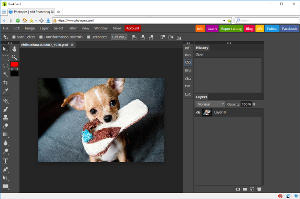 There is a help section in their website with detailed information to work with PhotoPea where you can ask questions to the developers.
PhotoPea has numerous tools, 20 filters, layer management and the most common image adjustment and transformation functions.


PhotoRaster is an advanced online photo editor created by David Levinsky using JavaScript, HTML5, WebGL and Flash.
It has a help section and a user interface that resembles a desktop photo editor although it's only available in English.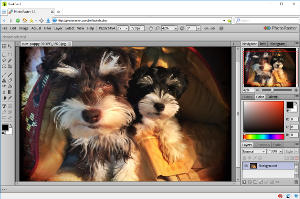 PhotoRaster has 46 filters, layer management, more than 300 fonts, a large selection of image transformation and adjustment functions and many tools.
If that's not enough, it also has all kind of selection and vector element modification tools.
PhotoRaster supports its own image format (PRA) and the more prevalent JPG, GIF, TGA, BMP, etc.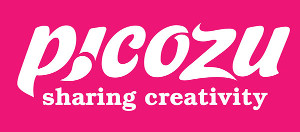 Picozu is a web application based in HTML5 and CSS3 to retouch or create photos and drawings.
Picozu can open and save images from several social networks and cloud storage services.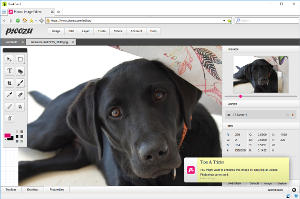 It has more than 250 filters of all kinds, a wide selection of tools, layer management and an apparently simple but feature rich user interface available in English only.
You can install, enable and disable plug-ins, themes and filters from the extensions option in the tools menu.
Picozu supports raster and vector image formats like PNG, JPG, BMP, SVG, PSD, PZW and its own format, PZI.


Pixlr is an advanced cloud photo editor developed by Ola Sevandersson but now it's owned by Autodesk, Inc.
Pixlr has a customizable user interface which is very similar to other desktop photo editor applications like Photoshop or Gimp, and it's available in 28 languages.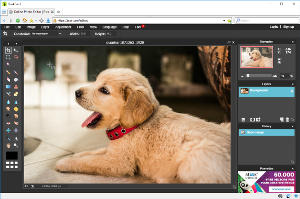 It includes more than 20 filters, a comprehensive layer management and many image adjustment and transformation options.
Pixlr has a help section and blog articles where the users can find the answers they are looking for.
Pixlr supports JPG, PNG, TIFF, BMP and its own image format PXD, used to keep all the layers information.


QueekyPaint is a photo editor developed by Philipp Hennermann using Flash and it's linked to the artists platform at Queeky.com.
QueekyPaint has the same appearance of other desktop apps like Photoshop and its user interface can be translated to 3 languages.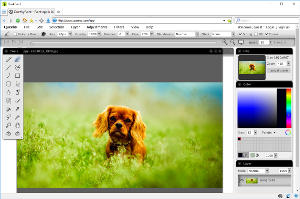 It has a recording function to replay the creative process of your artwork. It records each stroke you make and it allows you to add or remove strokes from the drawing at any time.
QueekyPaint supports JPG, GIF, PNG and its own image format QKY. It also supports layers and it has a limited amount of image adjustments, filters and tools.


SplashUp, formerly known as Fauxto, was developed by Dave Brushinski using Flash. The original website was closed in 2014 but there's a copy maintained by EdMyPic.
It doesn't have a help section or keyboard shortcuts. SplashUp has a reduced number of filters and image adjustments, but it supports layers and it has 20 selection and drawing tools.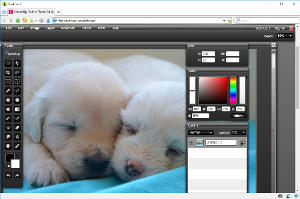 SplashUp can import and export images from several social network sites and photo sharing services. It also supports the JPG, PNG and FXO image formats.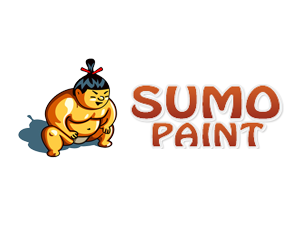 SumoPaint is a Flash based online image editor and it's linked to the sumo.fm community where millions of artists share their work.
It has a fast and intuitive user interface translated to 18 languages which will be very familiar to those who used desktop applications like Gimp or Photoshop.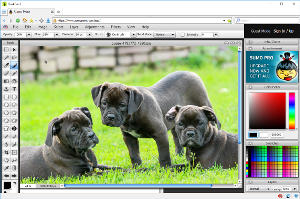 It includes 37 filters and a wide range of tools and image adjustments and transformations.
SumoPaint supports layers and the JPG, PNG, GIF and SUMO image formats.
Article updated on January 31st, 2019
English