13 Best Free Online Vector Graphics Editors
Submitted by

salvadordf

on Fri, 10/13/2017 - 09:55
Enjoy these free alternatives to Adobe Illustrator or Inkscape in Internet to edit your illustrations, logos or vector images easily without installing more software.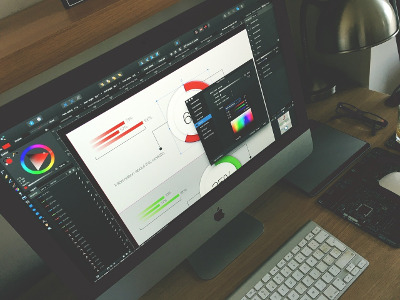 Definition
A raster image is formed by a set of colored points or pixels over a canvas. All those pixels have the same size and they are arranged in rows and columns over the canvas, like the image you see in your monitor right now.
This kind of graphics lose sharpness very easily when you try to stretch them over very large surfaces because each pixel has to be stretched too.
You can solve this problem by using vector graphics. These images are formed by instructions that define lines, shapes, colors, etc.
In this case the images are always sharp and it's much easier to edit a part of it.


Vector and raster graphics comparison. © Vierge Marie
Online editors
In this article you will find free vector graphics editors that can be used in web browsers like BriskBard.
In the previous article about photo editors there are some editors that also include tools for vector graphics but we won't mention them again for the sake of brevity.
This is the list of vector graphics editors, in alphabetical order :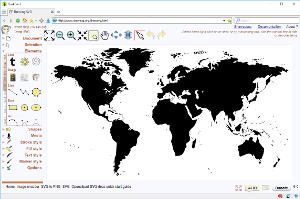 Draw Svg is a comprehensive vector graphics editor developed by Joseph Liard using HTML5 and CSS.
It doesn't require user registration, it has multiple tools and a large shapes library. Its user interface is only available in English and it's not like the interfaces found in desktop applications but it's easy to use.
Draw SVG has an extensive features list that includes the possibility of embedding YouTube videos, normal videos, audio and rich text.
Draw SVG can be integrated into other web apps with an API based on Mozilla jsSchannel.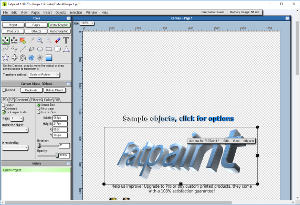 Fatpaint is a cloud vector graphics editor developed by Mario Gomes Cavalcanti using Flash. User registration is not required and it supports the PNG and JPG image formats.
The user interface is a little unusual but it has many of the most common features in this kind of editors. Its help section includes a user manual, a link to a discussion forum and numerous video tutorials.
It supports 3D text and rich text with more than 900 fonts.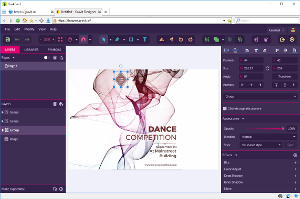 Gravit is a vector graphics editor made using JavaScript and WebGL with many templates for all kinds of graphics : blogs articles, social networks, presentations, etc.
Gravit uses a cloud storage to save the image files but it's also possible to import and export files from the local hard drive with the SVG, SVGZ, PNG, JPEG and PDF image formats.
It has one of he most feature rich user interfaces from all the web apps commented in this article with all sorts of tools. It's very easy to use and very similar to desktop applications.
It's possible to insert shapes, illustrations, icons, emojis, stickers, frames and lines from its library. Gravit has a powerful 2D rendering engine that fully supports the CMYK color space.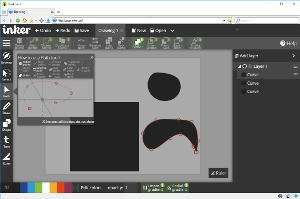 Inker is a vector graphics editor that allows you to create logos and typographies easily.
It doesn't require registration to start using some of its features. However, the SVG and EPS export functions, gradients and several other features are only available to paying customers.
It has a help section and it shows on-screen tips that tell the user how to utilize each tool. The user interface is very easy to use and it helps the user organize the colors in the palette, the graphical elements, layers and groups.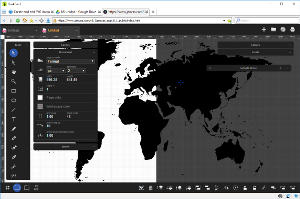 Janvas is a vector graphics editor with a wide range of tools to create illustrations and icons.
It's not necessary to be registered to test all of its features during a 30 day trial but after that, it's necessary to buy a license.
It's integrated with Google Drive and it supports the SVG, JPG and PNG image formats. Janvas also allows you to create interactive SVG graphics with CSS animations.
Janvas can paginate your creations to create catalogs, calendars, business cards, photo books, etc.
New users can learn how to do the most basic tasks thanks to the 20 tutorial videos in its website and they can also ask questions in the Janvas Google+ community.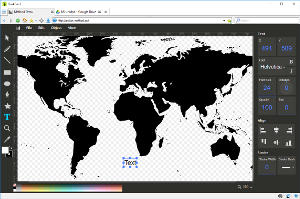 Method of Action includes games and articles to teach graphic design, in addition to a vector graphics editor.
It's an open source editor published under the MIT license that allows modification, distribution and commercial or private use without guarantees.
Method Draw supports PNG and SVG to open and save images in the user's hard drive. The user interface has a modest tools set but it's enough to do the most basic tasks.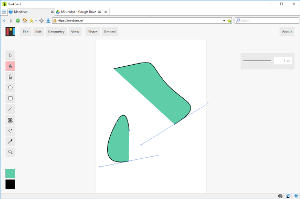 Mondrian is an open source vector graphics editor published under the MIT license, like Method Draw.
The project's source code is available at GitHub. It's totally free and it has a basic feature set with a clean and flat user interface to avoid user's distractions.
It's integrated with DropBox but it's also possible to open PNG and SVG images from the user's hard drive and Internet addresses.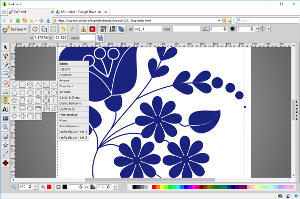 SVG-Edit is an feature rich open source vector graphics editor written in JavaScript and published under the MIT license, like Method Draw and Mondrian.
It's been almost 2 years since the last update to its code and it has some unfixed bugs but there are other projects based in SVG-Edit like https://github.com/texthelp/svgedit that continue the development of new features.
It's possible to view and modify the SVG code at any moment and it supports other image formats like PNG, JPEG, BMP, WEBP and PDF.
SVG-Edit also includes basic tools to create shapes, lines, texts, add images, polygons, gradients, etc.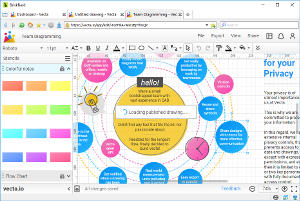 Vecta.io is a cloud vector graphics editor and diagramming tool. It's in beta phase and if you take a look at their blog you'll see that new functionalities are added every few days.
For the moment, all the features are available for free and when the final version is released Vecta will offer a free service but paying customers will have more benefits.
Vecta allows you to create diagrams quickly and easily with an intuitive user interface and a wide range of tools. It's possible to collaborate in real time with other team members with on-screen notifications and chat.
Vecta can share drawings in several social networks and email, and allows to upload a drawing to the cloud and make it visible for everyone.
Vecta supports the PNG, JPG, PDF and SVG file formats. It has an extensive symbols library and includes stencils from Microsoft, Google, Amazon, etc.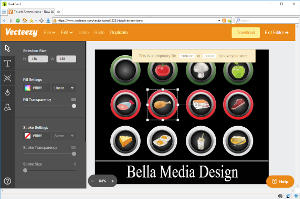 Eezy is a designers and artists community that share tens of thousands of resources. Vecteezy is the section in the Eezy community dedicated to vector graphics and they have an editor where you can modify the images available in their library before downloading them.
Vecteezy is a basic editor but it's intuitive and very easy to use and it doesn't require to be registered to start drawing. You can import and export using the SVG, JPG, PNG and GIF image formats.
I has the most common tools to modify each drawing element, a wide selection of fonts, shapes, illustrations and in the future, templates.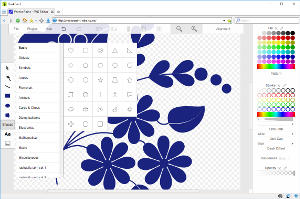 Vectorpaint is a vector graphics editor developed by Ben McDonald. It's not necessary to be registered to use all the features of this web app and it supports the SVG, JPG and PNG image formats.
It has a simple but easy user interface that includes many fonts and a large collection of shapes, objects, symbols, etc.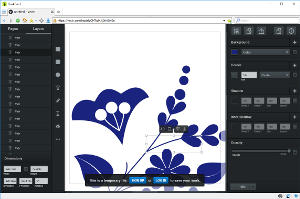 Vectr is an online vector graphics editor and it's also available as a separate application for Windows, Max, Linux and ChromeOS.
Vectr is, according to their creators, simple but powerful. It has a fast and intuitive user interface with basic tools.
You need to be registered to download the images in SVG, JPG or PNG formats. Vectr also allows you to import images in SVG, JPG, PNG, GIF and ICO formats.
Their web page has a help section with multiple interactive lessons and tutorials. There's also a user guide and a keyboard shortcut list inside the web application.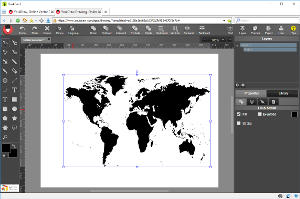 Youidraw gives you the possibility to use three web applications in their web page : a logo creator, a raster image editor and a comprehensive vector graphics editor made with HTML5 and JavaScript.
It's necessary to register to start using the editor and only paying customers have all the features enabled. The free service users can't save the images in SVG or PDF formats, they will have a watermark in their drawings and they won't be able to use their creations for commercial purposes.
Youidraw can save images in Google drive, DropBox and the local hard drive. It includes a extensive user guide and on-screen tips for each interface section.
Youidraw also has a great templates collection and many shapes, fonts and tools.
Editor notes : This article was updated January 31st, 2019
English