BriskBard 1.6.0 Released !
Submitted by

salvadordf

on Wed, 11/01/2017 - 11:00
Download the new version of BriskBard with the new private web browsing mode and the portable version to enjoy a fast and secure web browser in computers where it's not possible to install software.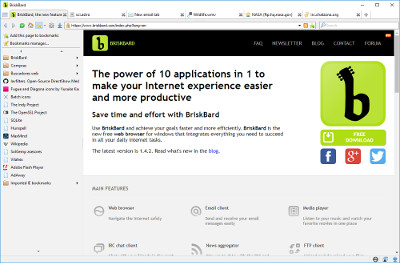 For those occasions when you prefer to leave no trace of the websites you visit, now you can use the private mode in BriskBard.
With this new web browsing mode the web pages you visit won't be logged in the browsing history, the cache won't be used and web sessions won't remain open because the cookies are not saved.
Another new feature suggested by the users is the portable version. Now BriskBard can run from any external storage device like pendrives, external hard drives, flash memory cards, CDs, DVDs, etc.
With the protable version you'll be able to use almost all the BriskBard's features in computers where it's not allowed to install software and even with unprivileged Windows users.
These are the new features :
The Blink rendering engine has been upgraded to 62.0.3202.75.
SQLite has been updated to the latest version.
Added a portable version to run BriskBard from an external device without OS installation.
Now the web browser has a new private mode.
The keyboard shortcut Control+Shift+N has been activated to open new web browser tabs in private mode.
Added a context menu option to open web links in private mode.
The IRC-Hispano bookmarks have been updated.
Bug fixes :
The application initialization has been improved.
Fixed a bug reading the server information in popup windows.
Now the phishing threat updates will be disabled when the user disables the phishing protection in the configuration.
Flickering removed from the downloads window.
For more information go to https://www.briskbard.com
English