BriskBard 1.6.1 Is Out !
Submitted by

salvadordf

on Wed, 12/27/2017 - 09:43
The new version of BriskBard has been released with a Speed Dial for the web browser tabs, the French translation for the user interface and a new option to take snapshots from a web page and save them as PNG files.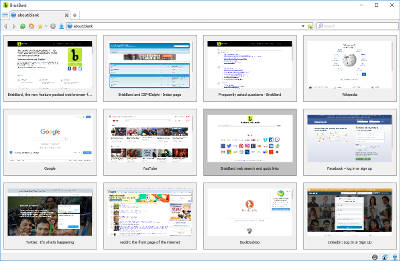 The Speed Dial makes visiting your favorite websites even easier. All you need is run BriskBard and click one of the buttons in the dial.
To activate this new option you only have to open the web browser "Configuration", select the "General" tab and choose "Speed Dial" in the "New Tab" option.
To assign or replace websites in your Speed Dial buttons just visit a website, right-click to open the context menu, click on the "Add this page to the Speed Dial" and select the button that will be assigned to that website.
Another new feature in BriskBard 1.6.1 is the French translation made by a BriskBard user called Christian. I'm eternally grateful for his work translating all the text messages in the user interface.
These are the new features :
The Blink rendering engine has been upgraded to 63.0.3239.109
The Indy and OpenSSL components have been updated to the latest version.
The French language is now available in the user interface thanks to Christian.
There's a new option to show a Speed Dial when you open a new web browser tab.
Now it's possible to save a web page as a PNG image.
Bug fixes :

Improved responsiveness when you resize popup windows.
Now the settings are saved correctly.
For more information go to https://www.briskbard.com
English