BriskBard 1.6.2 Has Arrived!
Submitted by

salvadordf

on Tue, 02/13/2018 - 18:18
Download BriskBard 1.6.2 and enjoy the new security features and tab handling options to make your browsing experience even better.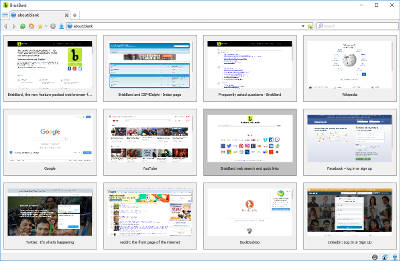 The new version of BriskBard adds a new configuration section for the web browser tabs with some of the new tab handling features that were requested by the users. Now BriskBard can open the same tabs you had open the last time you used it and you can also open a set of web pages automatically.
Some users also requested new options to duplicate tabs or open the last closed tab, and now BriskBard includes those features in the context menu shown when you right click on the tabs.
The media player can now use the enhanced video renderer offering better performance and greater video quality.
These are the new features :
The Blink rendering engine has been upgraded to 64.0.3282.119
New "Site per process" security option in web browser tabs using the Blink engine.
Now you can use HTTP, SOCKS v4 and SOCKS v5 proxy servers in web browser tabs using the Blink engine.
New context menu options to duplicate tabs and reopen closed tabs.
New section in the web browser configuration window for all tab related settings.
New web browser settings option to open the same tabs the user was using when BriskBard was closed.
New web browser settings option to open a set of web pages on startup.
Added the enhanced video renderer (EVR) to the media player tabs.
SQLite has been updated to the latest version.
Fixed a bug downloading files with BLOB addresses used by Mega.nz
For more information go to https://www.briskbard.com
English