BriskBard 1.6.4 Is Now Available!
Submitted by

salvadordf

on Sun, 04/22/2018 - 10:27
Simplify your Internet navigation with the latest BriskBard version. Enjoy the new bookmark options and the new user interface features that will make your Internet experience even more comfortable.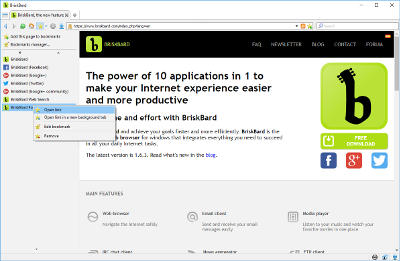 Now it's even easier to edit and delete bookmarks in the web browser, FTP and IRC tabs.
As requested by some users, BriskBard now includes a context menu in the Bookmarks. You just have to right-click on a bookmark and a menu will allow you to complete the most common tasks without opening the bookmark manager.
In this version there are also new configuration options and interface features for the web browser, the popup windows performance has been improved and the application shutdown process has been optimized.
These are the new features in this version :
The Blink rendering engine has been upgraded to 66.0.3359.117

New context menu in the bookmarks to open, edit and delete each item.

Now there is a progress indicator in the status bar inside the web browser tabs using the Blink engine.

The Indy, OpenSSL and SQLite components have been updated to the latest version.

Improved performance for the popup windows using the Blink rendering engine.

Now the taskbar button flashes or a notification is shown when a download is completed and the download window is not visible.

New configuration option for the web browser tabs using the Blink engine to disable the smooth scrolling.

Improved safety and performance when BriskBard is closed.

Fixed the bug where new web browser tabs ignored POST requests.
For more information go to https://www.briskbard.com
English