BriskBard 1.6.7 Released!
Submitted by

salvadordf

on Sun, 09/30/2018 - 22:00
Download the latest version of BriskBard and feast your eyes on the new audio visualizers in the media player. Enjoy your music while you surf the web, read your email, feeds or newsgroups with the most comprehensive web browser in the market.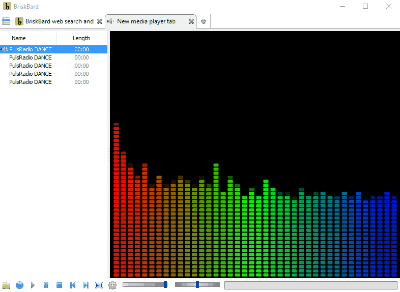 The new version of BriskBard has a greatly improved media player with many performance enhancements, bug fixes and new features.
You will love the new colorful audio visualizers and the support for the XSPF and WPL playlists that will allow you to enjoy your online radio stations or your music while you do your daily internet tasks.
As always, BriskBard comes with the latest Blink web rendering engine and many other updated components that will keep you safe in Internet.
These are the new features :
The Blink rendering engine has been upgraded to 69.0.3497.100
The media player has new audio visualizers and the existing ones have been greatly improved.
Added support for XSPF and WPL playlists in the media player.
Now the media player allows you to open streams and playlists from the "Open URI" button.
The installer now checks the Windows version.
Added a new "Autoplay policy" option in web browser tabs that use the Blink engine.
The private data deletion tasks have been optimized to start BriskBard faster.
The OpenSSL, Indy and SQLite components have been updated to the latest version.
Bug fixes :

Some of the black zones that appeared when you opened new Blink web browser tabs with hardware acceleration have been removed.
Fixed the delay opening downloaded files with the web browser tabs.
The developer tool can be resized again.
Fixed some performance and lockup issues in the media player.
The downloaded files with the web browser have unique names.
Now the "Default programs" button sets the right file types for each tab type in Windows 7.
For more information go to https://www.briskbard.com
English