BriskBard 1.7.1 is now available!
Submitted by

salvadordf

on Sun, 04/28/2019 - 22:00
Download the latest BriskBard version with improved visual stiles, a new menu option to mute browser tabs and a new setting to use any external download manager.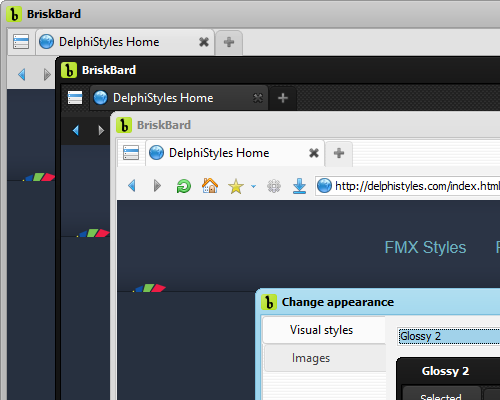 BriskBard 1.7.1 can now use visual stiles even with high DPI monitors and you have even more styles to choose from to improve your browsing experience. This version includes three new styles from DelphiStyles and all the styles have an improved image quality in menus and treeviews.
As suggested by several users, BriskBard now allows you to use external download managers to speed up your downloads and support new protocols.
Just install your favorite download manager and go to the web browser settings. Select the Downloads tab, check the Use the external download manager box and select the main executable file in the directory where you installed the download manager. BriskBard will run that executable file with the parameters given in the Parameters box every time you try to download a file.
Some of the most popular download managers are detected by BriskBard and the Parameters will be filled automatically.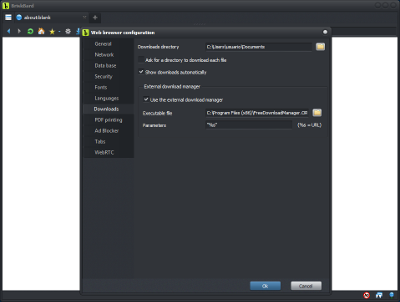 In addition to the visual style improvements, BriskBard now lets you import, export and edit the image sets. Create your new image sets and share them with your friends in a compressed file that they can easily import.
Another interesting new feature you will like is the new context menu option to mute a web browser tab. If you need to disable all the sounds coming from a particular browser tab just right-click over the web page background and select the Mute audio option. To enable the sound just select the Unmute audio option in the same menu.
This is the full list of new features in BriskBard 1.7.1 :
The Blink rendering engine has been upgraded to 74.0.3729.108
Added new option to use an external download manager.
Added a context menu option to mute a web browser tab.
New options to import, export and edit image sets in the Change appearance section.
Now BriskBard can use visual stiles with high DPI monitors.
Added 3 new visual styles from delphistyles.com
Improved image quality in menus and treeviews.
Added new option to drag and drop browser links form the browser window to the bookmarks and address box.
Added Qwant to the available search engine options.
The Indy and SQLite components have been updated to the latest version.
Bug fixes :

Fixed a font issue in some dialogs with treeviews.
Fixed text color in web browser tabs using the Trident engine.
Fixed the flickering in the email configuration window.
The buttons in the message and article editors now work correctly.
For more information go to https://www.briskbard.com
English