What's the meaning of the name and logo of BriskBard?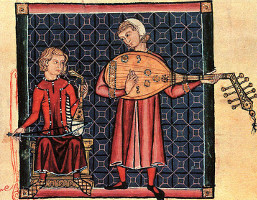 Bards recited stories, legends and historic or epic poems to different audiences visiting different locations. They were also composers, artists, poets and itinerant musicians in the ancient history of Europe. Some authors claim that they were also messengers.
In a certain way, BriskBard has several similarities with bards. BriskBard is used to read stories and news visiting different sites in Internet thanks to its web browser. BriskBard can also play music like bards thanks to its media player and it can also be used as messenger thanks to the email and IRC clients.
The logo is based in a 'b' from a medieval manuscript. The upper part was slightly bent and some pegs were added to make it look like a lute, which was one of the musical instruments used by bards.